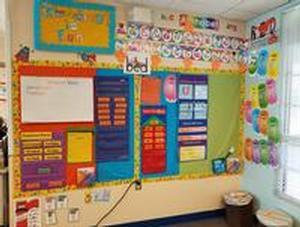 Welcome to Our Classroom
Reading News
National Public Radio
Early-childhood and elementary school programs reflect a diverse set of commitments about what children ought to learn, and about how they ought to do so. Some focus on academic preparation and advancement, with extra attention to reading and mathematics. Some emphasize social-emotional development and community values. Others tout their language classes, or their music program, or the opportunities for children to engage in extended projects of their choosing. Some praise structure and discipline; some prize autonomy and play. Alongside this profusion of options is a rich diet of advice: parenting books, articles, Facebook groups, and friends who swear by one approach or another. For the most part, though, these conversations miss an important question: not just what to learn and how to learn it, but when to do so. In other words, what should young children be learning while young? What's the argument for learning a particular skill sooner rather than later?
Resources
Parent Resources

This section contains resources for parents looking for information on topics such as child development, struggling learners and parenting issues.

Esta seccion contiene recursos para padres que buscan informacion sobre temas como el desarrollo de ninos, estudiantes con dificultades para aprender, y cuestiones familiares.

Reading Rockets is a national multimedia literacy initiative offering information and resources on how young kids learn to read, why so many struggle, and how caring adults can help.


Colorín Colorado es un sitio bilingue que presta servicios a familias de estudiantes del idioma inglés (ELLs) de los grados PreK-12. Ofrece información basada en la investigación, actividades y consejos para padres. Colorín Colorado is a bilingual website serving families of English language learners (ELLs) in Grades PreK-12. It provides free research-based information, activities, and advice to parents.


PBS Parents is a trusted resource that's filled with information on child development and early learning. It also serves as a parent's window to the world of PBS KIDS, offering access to educational games and activities inspired by PBS KIDS programs. PBS Padres, es un recurso confiable con amplia información sobre el desarollo del niño, desde el nacimiento hasta los primeros años escolares. Elaborado con la contribución de expertos en psicología infantil, educación de niños a temprana edad, medios de comunicación y otros campos, PBS Parents ofrece las respuestas que usted necesita para ser la primera y mejor maestra de su niño.


Parent Toolkit is a one-stop resource developed with parents in mind. It includes information about almost every aspect of your child's development.Healthy, successful children can excel in many areas – in the classroom, on the court, and in their relationships with peers and adults. Parent Toolkit incluye información sobre casi todos los aspectos del desarrollo de sus hijos. Los niños saludables y exitosos pueden destacarse en varias áreas: en el salón de clases, en el campo de juego, y en las relaciones con sus compañeros y con los adultos.


Announcements
Tuesday 9/5/2017
Quotable Reading Quote
"Oh, magic hour, when a child first knows she can read printed words!" — A Tree Grows in Brooklyn, 1943
Tuesday 9/5/2017
Reading Tip
Key Ideas and Details
What it means: Your child will be encouraged to carefully read many books and texts. Within these texts, your child will be working to understand what is happening, summarize key events or points and recall details important to the story or topic.
How parents can help: After you share a story, talk about important story elements such as beginning, middle and end. Encourage your child to retell or summarize the reading. After reading nonfiction, ask questions about the information, "Is the spider an insect? How is a spider different than an insect?"
Events
Wednesday 9/6/2017

Progress Reports
Progress Reports go home. Please sign and return your child's teacher.
Thursday 9/7/2017
5:00 PM-6:00 PM
Annual Title I Informational Parent Meeting
Join un at our Annual Title I Informational meeting to find out what Little Red offers all of our students to make sure they are academically successful!
Friday 9/8/2017

No STEM-AP
No Friday Program September 8th. Teacher Professional Development Day.
Wednesday 9/13/2017

Picture Day
Smile for the Camera Day!

Thursday 9/14/2017

Constitution Day (Celebrated at Little Red)
On September 17, 1787, the delegates to the Constitutional Convention met for the last time to sign the document they had created. Celebrate Constitution Day through activities, learning, parades and demonstrations of our Love for the United State of America and the Blessings of Freedom Our Founding Fathers secured for us
Friday 9/15/2017

Santa Cruz County Fair
We will be taking our students to our annual Santa Cruz County Fair field trip on Friday, September 15th.
Friday 9/22/2017

No STEM-AP
No Friday program on Setpember 22nd. Teacher Professional Development Day
Thursday 9/28/2017
5:30 PM-7:00 PM
Healthy Families Event
Healthy Families Event for Seventh Grade Students and their parents.
Friday 9/29/2017

STEM-AP
Friday program in session.
< <<
October 2017
> >>
Sun
Mon
Tue
Wed
Thu
Fri
Sat

1




2




3




4




5




6




7




8




9




10




11




12




13




14




15




16




17




18




19




20




21




22




23




24




25




26




27




28




29




30




31